Procedure to sell property in Malaysia【for Owner】
Owner need to understand this process to sell out your property
When you plan to sell your property in Malaysia, please refer to below procedure.

1. To appoint property agent (negotiator)
1st step is that to appoint property agent to market your property. Very difficulut to find buyer without agent.

2. Property agent market your property
Agent try to find buyer as follows;

1. To introduce to own client (database)
2. To ask co-workers in same agency to introduce their client
3. To expand info to other agent
4. To post portal site as iproperty etc
5. To post news paper
6. To put on sign borad if landed house

3. To receive Letter of Offer
When find buyer who confirm to buy, need to get Letter of Offer (LO) and earnest deposit which is of the selling price. LO is prepared by agent.

↓Sample of LO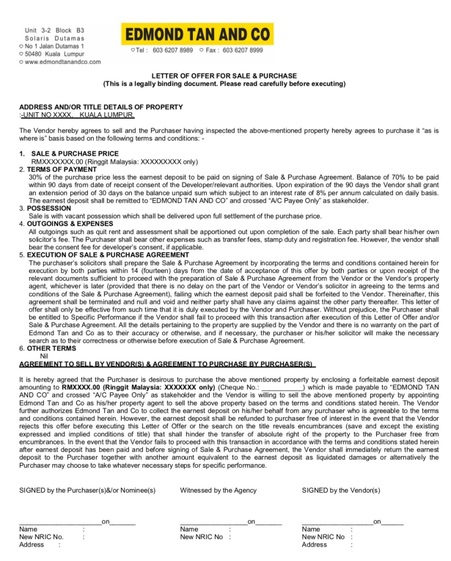 4. To prepare SPA
Lawyer prepare (Sale & Purchase Agreement) in Malaysia. Owner need to appoint lawyer to do this. It is better way to appoint lawyer both party (buyer and seller) to protect right.

5. To sign SPA
Buyer need to sign SPA earlier than Seller. Seller sign after buyer sgined and received 10% deposit. To sign SPA is needed to sign in front of lawyer.

6. To obtain necessary consent
It needs to get necessary consent as follows to proceed deal.
・State consent (if buyer is foreigner)
・Developer consent (if title is still )
・Land office consent (if land is)

7. To pay balance of purchase price
After get necessary consent, buyer needs to pay balance of purchase price (BPP) (sometimes term is different). If seller has loan, buyer needs to pay to bank first to withdraw mortgage.

8. To settle outgoing payment
To settle outgoing paytment as follows based on the date which buyer paid BPP.
・maintenance fee
・sinking fund
・fire insurance
・assessment fee
・quit rent
・utility fee
・rental and deposit (if tenanted)

9. To hand over keys (VP)
After settle outgoing payment, seller need to pass all of keys to buyer.
※

10. To settle RPGT
Seller deposited 7% of selling price to tax office, will deduct from this deposit. If no profit, deposit will be fully refund.

11. To change the name
New owner need to change name of below organisation;
・DBKL (asessment bill)
・Management office
・TNB
・Water supplier

Usually lawyer or agent help to do it.