Assessment Bill
About Assessments Bill in Malaysia
Assessment fees is one of the tax from government that compulsory payable by all the residential and commercial property owners. Owners have to pay no matter the property it is occupied or not.

Assessment is a charge to maintain local area such as lighting by the side of roads, cleaning of parks, collecting municipal waste and other miscellaneous tasks that make for a well-maintained and pleasant place to live.

The owners may apply for a refund and remission rates from your local authority if your property is unoccupied. The application must be made within 7 days from the date of vacancy, otherwise, the local authority would take the effective date of vacancy as the date that the application was made.

How To Check Assessment Bill
1.) DBKL (Dewan Bandaraya Kuala Lumpur) will send a letter to your property.

2.) You might check your bill from with key in your assessment account number.

3.) You may download an app called .

Example assessment bill: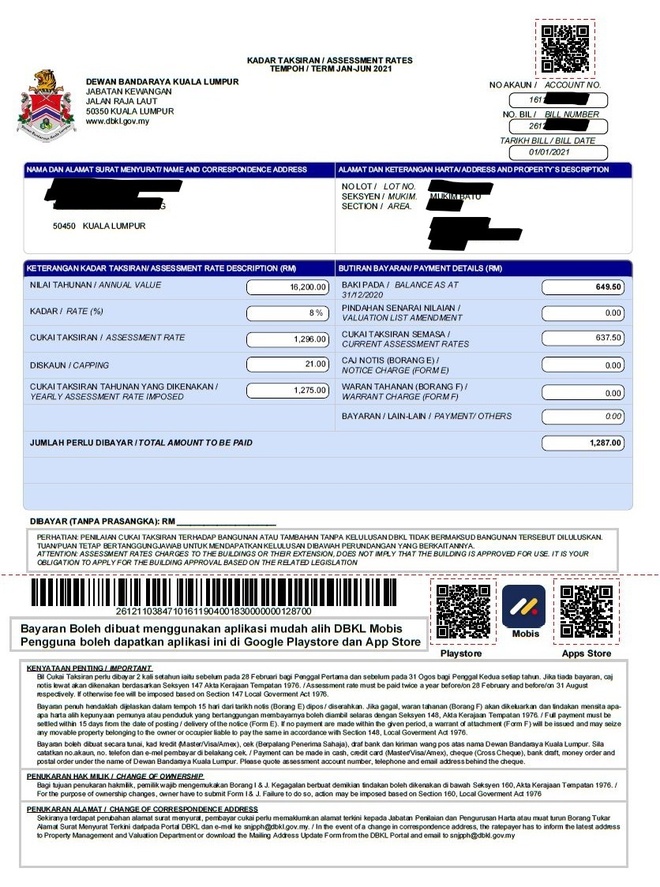 How to pay?
1. By offline and in-person
- Land Registry Office
- Local district council
- Post Offices

2. By online
- Pos Online
-Online banking platforms (Maybank2u, CIMB Clicks, and AmOnline)
-The Land Registry Office's official online platform (for certain states only)

3. By app
-Download Mobis and pay directly inside the app